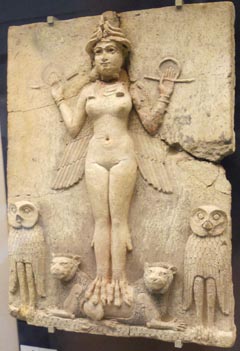 The Queen of the Night, inspiration for the goddess
in Moonfall: Tales from the Levant
(Mesopotamian, circa 1750BC. THIS IS ONE BAD BUT BEAUTIFUL LADY. Either Ishtar, goddess of sexual love & war or her sister, Ereshkigal, goddess of the underworld. Originally painted in red, she wears a horned headdress and holds the rod and ring of justice, symbols of divinity. Multi-colored wings hang down, and her legs end in talons. She stands on the backs of two lions. Plaque made of baked straw-tempered clay.)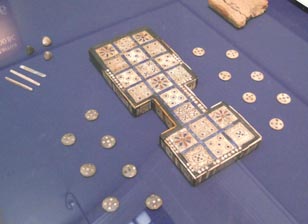 In Moonfall, guardians play this game in the
barracks where King Nur incarcerated Rachav's father.
(Royal tombs of Ur, circa 2300BC. The "twenty squares" board is exquisitely detailed in lapis lazuli, shell, and red limestone. Used for war games, betting, and fortune-telling. Upper right corner is the best part--an intact rules tablet.)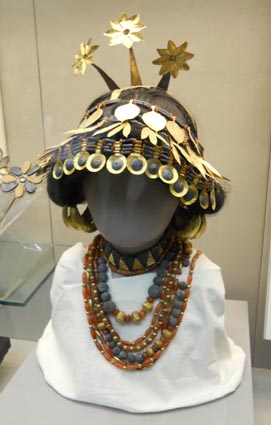 This ornate gold headdress is worn by Queen Supoket
in Moonfall: Tales from the Levant
(Ur, circa 2500BC, worn by a royal woman buried with approximately 70 attendants, all of whom apparently drank poison to accompany the queen into afterlife)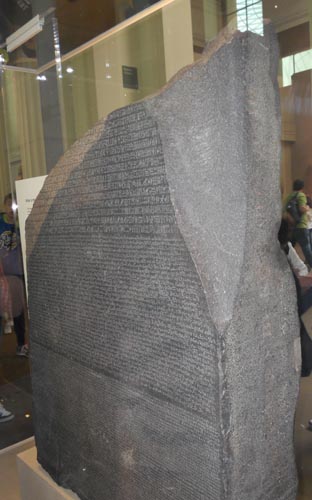 Rosetta Stone -- Okay, it's not from the Late Bronze Age, but this is a must-see for anyone visiting the British Museum!
Intact Section of Hadrian's Wall near Birdoswald
Lanercost Priory, Cumbria
Site of frequent Anglo-Scottish Battles; it was attacked
by Robert the Bruce
Excavations at Vindolando, an important Roman fort on
Hadrian's Wall
Excavated Roman Road at Vindolando